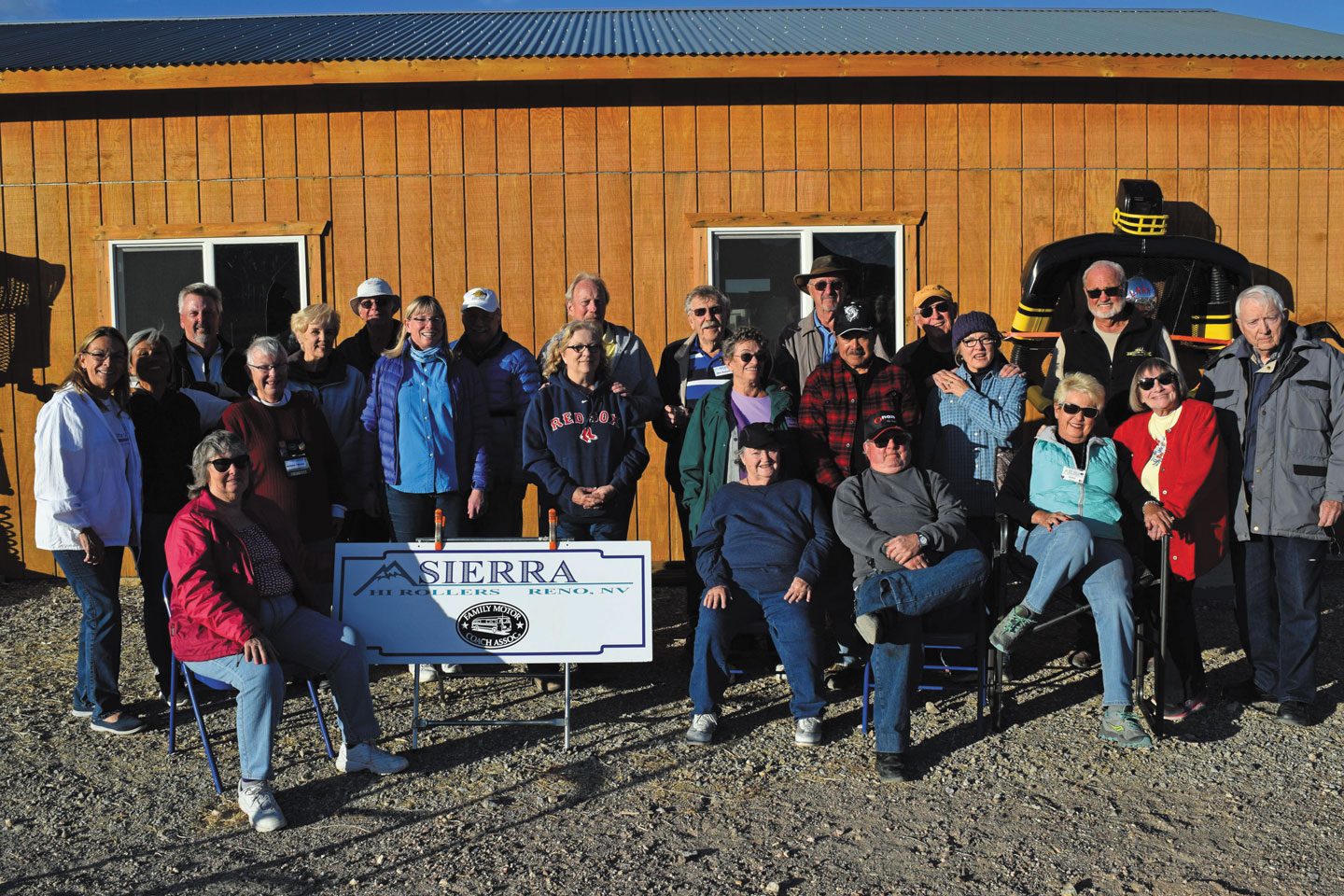 These FMCA members take in the history and sights of northwest Nevada.
By Russ Olmo, F313969
April 2020
Members of the Sierra Hi Rollers chapter pride ourselves in being a welcoming and friendly group. We focus mainly on the northwest Nevada counties of Carson City, Churchill, Douglas, Lyon, and Washoe. We also have some members who reside in California. We welcome all RVers who are members of FMCA.
Our area is cool in winter, so our rally season runs from May to October. For the past several years we have focused on the history of Nevada as part of our rally activities. We have had historians talk to us about the state's past, and we have visited cities, sites, and attractions relating to Nevada history.
This year we will learn about Nevada's Basque heritage with a rally at the Winnemucca Basque Festival, which includes Basque games, dancing, and food. That rally is June 11 through 15.
At our rallies we usually enjoy happy hour before dinner. The dinner can be potluck or prepared by our rally hosts. A favorite is grilled tri-tip steak. Sometimes our dinner is at a local restaurant. Afterward, we can enjoy a campfire and conversation. Occasionally there are games after dinner also.
Prospective members are welcome to attend our rallies; please register first so we know you are coming. For the Basque Festival, you can reserve with us until April 10.

We also welcome you to attend our 30th anniversary rally. The Sierra Hi Rollers chapter was chartered by FMCA in September 1990. The anniversary rally will take place at Boulder Creek RV Resort in Lone Pine, California, from September 22 through 26.
Our rallies usually span four nights, and we typically hold four rallies each year.  In addition to rallies, our chapter gets together as a group to enjoy one-day outings without our RVs.  We have toured factories, had picnics, dined at restaurants, and attended a professional baseball game.
Chapter dues are only $12 per year.  Learn more about the Sierra Hi Rollers and upcoming events by visiting www.sierrahirollers.com or contacting Dale Soule' at (530) 310-4070 or

This email address is being protected from spambots. You need JavaScript enabled to view it.

.
For general information about FMCA chapters, contact the Chapter Services Department at (513) 474-3622 or (800) 543-3622;

This email address is being protected from spambots. You need JavaScript enabled to view it.

.
If you would like your chapter to be featured in Chapter Spotlight, contact FRV associate editor Peggy Jordan, (800) 543-3622, ext. 212;

This email address is being protected from spambots. You need JavaScript enabled to view it.

.