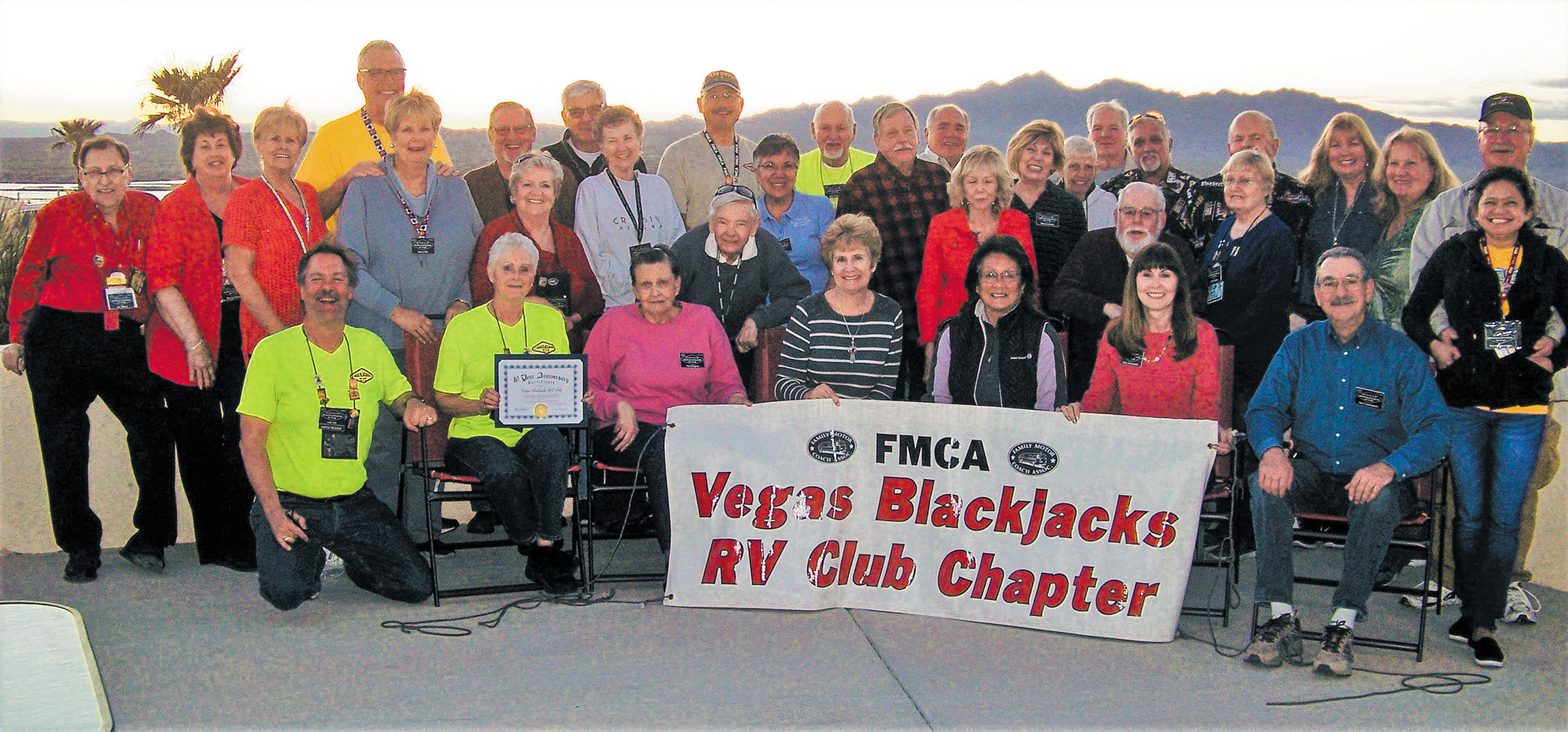 Find fun and friendship in and around Nevada's most famous town.
By John H. Hill, F385832, Chapter President
July 2019
The Vegas Blackjacks RV Club celebrated its 10th anniversary this past February. If you live or spend time in the Las Vegas, Nevada, area, we invite you to join us.
We are the only Las Vegas-centered FMCA chapter. Members live in the greater Las Vegas area, as well as Nevada towns such as Mesquite and Pahrump. And some are full-timers, who we get to see a couple of times each year. You don't have to live around here to join us.
We currently have 34 active member families, including six charter families from our founding in February 2009. We are an inclusive group, having members who own RVs from Type B vans and Type Cs up to 45-foot Type As, both older and brand-new. We also welcome towable RVs. A fifth-wheel owner joined us this year. Our initiation dues are $40 (which includes engraved name tags) and $20 per year after that.
While many of our members are retired, we have a significant number who are still working. So, rallies officially run from Friday through Sunday, with people adding Thursday and Monday to those dates as they can. We usually stay within 200 miles of Las Vegas, but in the past, we have gone farther away to places such as Southern California. We usually do not schedule rallies in the summer months, because of family vacations and the Las Vegas heat.
Some people assume that we are about gaming, because "blackjacks" is in our name. But we were not founded for gaming. Our main focus is fun, camaraderie, and good food. This includes happy hours, potluck dinners, and even bigger dinners, and activities that the wagon master for the rally has arranged.
This August, you will find some of us at the FMCA International Convention in Minot, North Dakota. Our next chapter rally is in September, when we will be in St. George, Utah; in October, we'll be in Pahrump, Nevada. We always enjoy a Christmas dinner each year, too.
For additional photos and information, search for "Vegas Blackjacks RV Club" on Facebook; or contact me, chapter president John Hill, at l
This email address is being protected from spambots. You need JavaScript enabled to view it.
, or (702) 280-1107.
For general information about FMCA chapters, contact the Chapter Services Department at (513) 474-3622 or (800) 543-3622;
This email address is being protected from spambots. You need JavaScript enabled to view it.
.
If you would like your chapter to be featured in Chapter Spotlight, contact FRV associate editor Peggy Jordan, (800) 543-3622, ext. 212;
This email address is being protected from spambots. You need JavaScript enabled to view it.
.